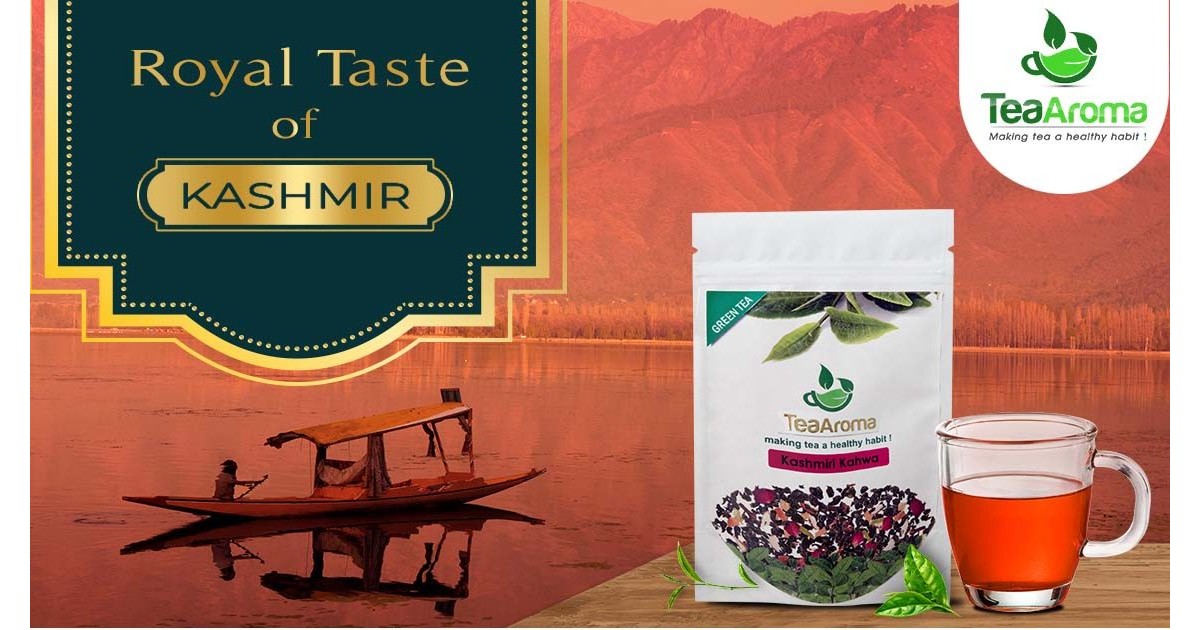 Amazing Benefits of Kashmiri Kahwa Green Tea & It's Ingredient you Never Knew Before
Out of the many forms of refreshment that help you shrug off the morning judders, Kashmiri Kahwa stands out. Not just because of its ethnic context but because of the exotic herbs and ingredients that dance around with each other in the boiling pot to churn out a sweet, enriching, healthy hot beverage.
How is it made?
Kahwa is made by boiling green tea leaves with Kashmiri saffron strands, cloves, cinnamon bark, cardamom pods and Kashmiri roses that add to the overwhelming aroma. It's traditionally served in brass kettles, locally known as Samovar.
Why have Kashmiri Kahwa?
Striking the perfect balance between taste, aroma and health benefits, the exotic Kashmiri Kahwa is favored by nutritionists and tea enthusiasts from around the world.
Kashmiri Kahwa is famed for the numerous health benefits it provides. These include:
Improving the digestive system
Burning excess fat
Improving immunity
Relieving stress and reduce depression
Getting rid of a cough and cold
Improving skin health
What makes Kashmiri Kahwa so special?
Only rich and organic ingredients are used to make Kashmiri Kahwa. Infused with Kashmiri saffron strands, cinnamon bark, cloves, ginger, cardamom pods, rose petals and sweet almonds, bask in the fineness of this aromatic blend.
Being the pride of Kashmir with such rich flavors involved, this miraculous wonder will ease your fatigue after a long hectic day. It also catches the fancy of being an antioxidant and an effective detoxifying agent.
Let us see what health benefits can be found in the ingredients of Kashmiri Kahwa:
Kashmiri Saffron: Saffron is widely regarded as a mental stimulant. Many studies have found that it works as an antidepressant. It also helps cure respiratory congestions and regulates the cholesterol level to keep your heart healthy. Saffron also has antioxidants, which has anti-aging properties. Saffron helps clear the skin and prevent acne and dark spots.
Cinnamon: A common guest in every Indian kitchen, cinnamons are not only delicious, but they also loaded with antioxidants that protect your body from bacteria. It's also beneficial for diabetic patients and people suffering from fungal infections.
Cardamom: One of the most revered ayurvedic spice, Cardamom have been found to counteract colorectal cancer to an extent of 48%. The micronutrients found in cardamoms can reduce lipids in the body. It has also been used in Ayurveda to cure dental problems for many centuries.
The perfect blend of herbs
If you are wondering how to induct these herbs into your lifestyle seamlessly, your
worries are already taken care of. Tea Aroma uses these four miracles herbs and blends them with 11 other beneficial plants to create the perfect brew as the Kashmiri Kahwa Tea.
Let us live the good life by imbibing good habits.
Enjoy good health. Enjoy a good life. Enjoy the Kashmiri Kahwa Tea by Tea Aroma.